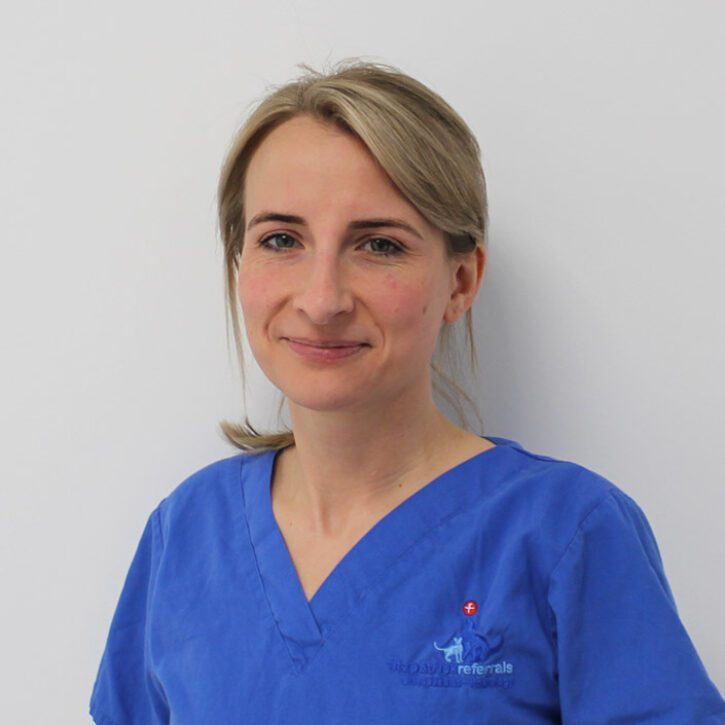 Specialist areas
Dr Nadine Schneider
Surgical Resident (ECVS)

/

DVM MRCVS
Nadine Schnieder graduated from the Faculty of Veterinary Medicine at the University of Vienna in 2016. She spent one year working as a small animal veterinary surgeon at a busy first and second opinion referral hospital in Vienna. She then completed a 12-month rotating internship at the University of Veterinary Medicine Hannover in the small animal teaching hospital, before moving to the UK.
In 2019, Nadine undertook an 18-month orthopaedic internship at Fitzpatrick Referrals, followed by a period of working in a primary care practice in the UK. She returned to Fitzpatrick Referrals in 2020 for another 12-month rotating internship in oncology and soft tissue and remained as a surgical assistant, before starting her surgical residency in June 2022.
Nadine is currently enrolled in the three-year European College of Veterinary Surgeons (ECVS) approved small animal surgical residency programme at Fitzpatrick Referrals and a referral hospital in Guildford. Although she enjoys all aspects of small animal surgery, Nadine is especially interested in reconstructive surgery, head and neck surgery, canine elbow disease and angular limb deformity correction.