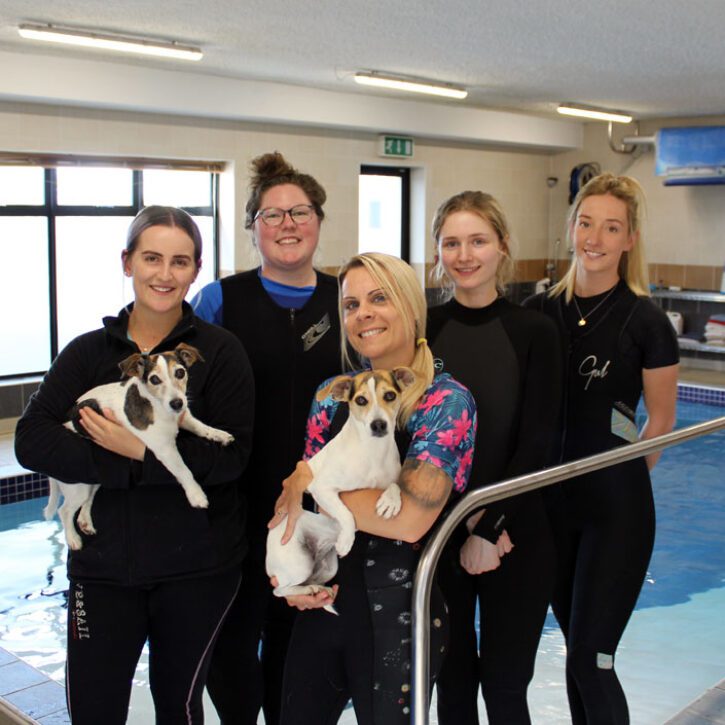 Specialist areas
Hydrotherapy Team
Hydrotherapy Team
Our hydrotherapy team work throughout the day within the rehabilitation service which has a large hydrotherapy pool to swim the patients and different height pods for the patient to stand on whilst having specific limb exercises. We also have an underwater treadmill which benefits exercise optimisation through buoyancy adaptation.
Prior to a hydrotherapy session with a new patient, we inform the clients of the benefits of hydrotherapy and tell them about what we will do with their dog or cat in the pool, on the pods or in the underwater treadmill to make them feel reassured. We also talk about pre and post hydro appointments regarding feeding and walking etc. We then fit a jacket onto the patient. The jackets range from tiny dog or cat size right up to a jacket that can fit a large Mastiff or Great Dane. First-time swimmers wear a flotation jacket which gives a little buoyancy. This jacket can be changed to a no-float jacket when the patient is strong enough and is used to the water. The no-float jacket makes the patient work a little harder and encourages them to use their core muscles more.
We have some time slots scheduled during the day for our inpatients. Each inpatient is brought to the hydrotherapy pool by one or more of the ward nurses or ward auxiliaries. It is great to see the progress of these debilitated patients. This is often the place where we see the first signs of movement in a patient's limbs and see their strength improve from session to session and that is fantastic.
Following their time in the pool, each patient is offered a shampoo or just a rinse, followed by either a towel or blow dry.
We ask the client to let us know how their pet responded to the hydrotherapy session, so we can gauge whether to increase the amount of swim time or change the pod exercises at their next appointment.
We make a record of the pod exercises and the laps completed for each patient after each session.