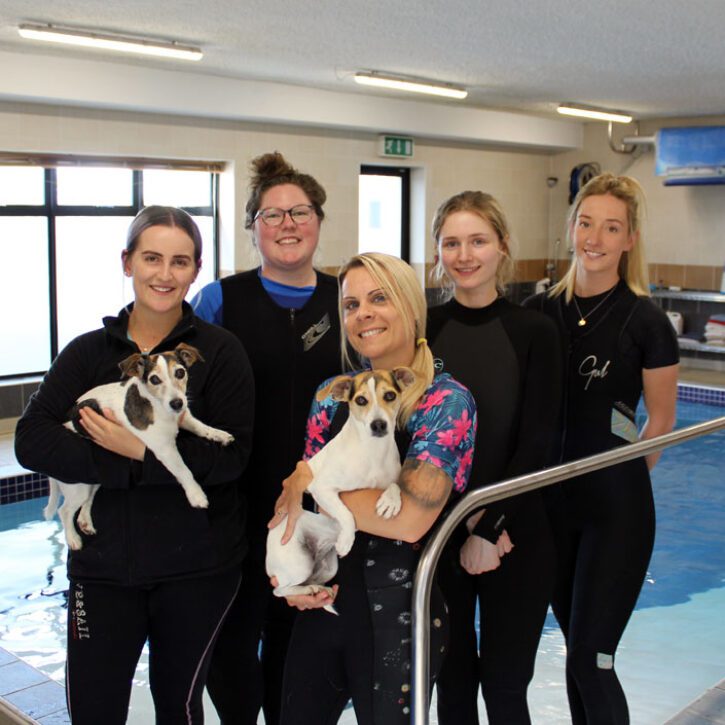 Specialist areas
Hydrotherapy Team
Hydrotherapy Team
The hydrotherapy team is made up of hard-working, caring individuals, with a passion for improving the wellbeing of our patients' lives.
The team is led by our Senior Hydrotherapist Amie Slade, who has over 15 years' experience working at Fitzpatrick Referrals.
All of our hydrotherapists have an ABC Level 3 Canine Hydrotherapy qualification as a minimum. The team come from a variety of backgrounds and bring different experiences with treatments and managing cases. They work closely alongside each other to share ideas and formulate the best treatment plans and care for our patients. Our hydrotherapists also work closely with our team of physiotherapists and vets, whilst treating inpatients and outpatients at various stages of recovery.
There's no typical day for a hydrotherapist; every day is different and our team has the flexibility to treat a wide variety of patients. For example, we might see a cat in the pool following hip surgery, a Chihuahua in the underwater treadmill (UWT) following stifle surgery, and a Great Dane doing pod work in the pool following neck surgery.
All of our cases are treated individually, with treatment plans tailor-made based on our clinical assessment of each patient. Our friendly team welcome and encourage open dialogue with the patient's family to ensure they are kept fully informed about their treatment.