In conversation with Radiographer Felicity Stringer
Felicity Stringer, a radiographer at Fitzpatrick Referrals Orthopaedics and Neurology and Fitzpatrick Referrals Oncology and Soft Tissue, offers an insight into life working across both centres and multi-disciplines.
1. What made you make the move from human radiography to veterinary radiography?
After graduating from the University of Exeter with a degree in Medical Imaging (Diagnostic Radiography), I worked in the NHS for seven and a half years – at the Royal Surrey County Hospital, where I was fortunate enough to learn both CT and MRI. I found this really fulfilling, it gave me a range of skills and a lot of perspective to take into a veterinary role.
When I was at university, I attended a lecture on veterinary radiography and I became fascinated by it, I love animals and the urge to make the move into the veterinary field was always in my mind. My dream came true in early 2015 when I was offered a radiographer post at Fitzpatrick Referrals and I have not looked back since!
2. How does working in veterinary radiography differ to human radiography?
There are so many similarities yet at the same time so many differences! My journey from when I started at Fitzpatrick Referrals has been and continues to be, a huge learning experience.
Communication was a big change for me at first, my animal patients can't directly tell me how they are feeling and where the pain is, so getting used to interacting with my furry patients definitely took a bit of getting used to! In addition, there was also the challenge of anaesthesia to incorporate into the imaging process. Most of our veterinary patients will undergo either general anaesthesia or sedation during diagnostic imaging and with this comes a whole variety of different factors to take into consideration.
Anatomy was another huge subject to get my head around – for instance a dog's elbow joint structure is very similar to that of a human, the same bones, ligaments and tendons are all designed to move the joint in the same way. But the huge difference, of course, is that in dogs, the elbow is a weight-bearing joint which creates a very different type of elbow pathology to that which is seen in humans. Also the development and metastasis of cancer – there are so many similarities in how cancer progresses and presents in all species – human or animal, and so, therefore, a lot of the imaging methods we use in veterinary are the same as if we were scanning humans. But with such a variety of breeds, each imaging protocol needs to be tailored and adapted to each patient in order to attain the very best diagnostic images.
3. You work across both Fitzpatrick Referrals hospitals. What are the differences between the two practices and how do the two complement each other?
The hospitals offer very different specialties and for the radiographers that means that imaging requirements can be different. However, there are always cases that cross over between the different disciplines and the two hospitals constantly work together to provide world-class care with every option possible available to patients.
The limb salvage pathway is a great example of this – patients with suspected osteosarcoma will be referred to the oncology centre, see a specialist and undergo imaging to confirm the diagnosis. The clinician will then go through the treatments available, one of which being limb salvage surgery, a technique pioneered by Professor Noel Fitzpatrick at our orthopaedic centre whereby the cancerous part of the bone is cut out and replaced with an endoprosthesis.
I love working between the two sites because not only does it give me a huge range of patients and pathologies to image, but it also allows me to follow the patients on every part of their journey. To see a patient enjoying a good quality of life again is so rewarding and to feel that I have been a small part of that process makes me very happy in my job.
4. Talk us through a typical day across both hospitals
There really is no such thing as a typical day! We see all sorts of patients for all sorts of different conditions. At our orthopaedic and neurology site, a day's work may include seizuring patients who need an MRI brain scan, lame patients who need a CT elbow scan or patients who have lost the use of their limbs who need an MRI spine scan. At our oncology and soft tissue site, we may see patients with suspected tumours who need a CT to confirm and stage the disease, patients with stick injuries who need a CT scan to assess soft tissue damage and patients undergoing interventional procedures where x-ray guidance under fluoroscopy is needed. You never really know who you will end up imaging and just when you think you have seen it all, a patient arrives with a something you have never seen before.
The radiographers all rotate between the two sites allowing us to work with a variety of patients and pathologies. We stay in communication with each other, often imaging will need to be sent between the two sites so that the vets with different clinical specialties can assist in reviewing the images in order to provide the best options for the patient and their family. We are lucky to have two radiologists who report on all sorts of images, providing advice and support to the imaging team. No two days are ever the same, every patient presenting a different set of challenges to overcome in order to achieve a diagnostic image and every day a learning day, that's one of the things I really enjoy about my job.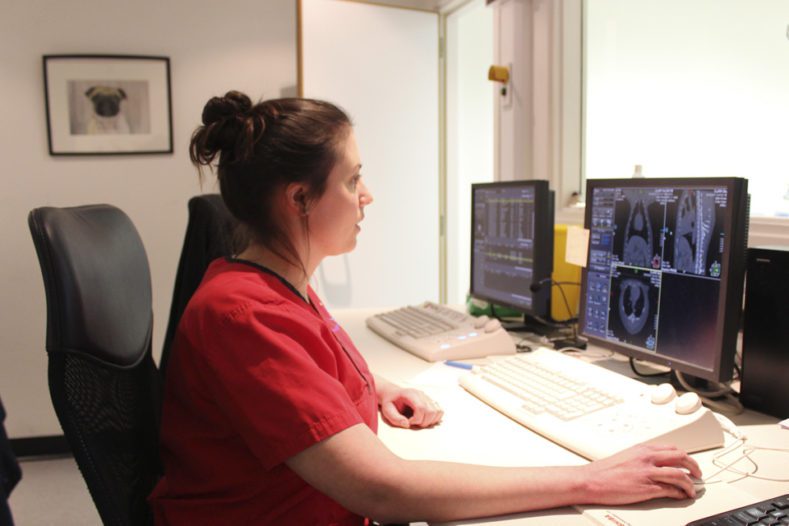 5. What skills do you feel you have developed as a result of working across both hospitals?
I think working between the two sites has allowed me to build my knowledge and create a deeper understanding of how the different specialties work and how they all fit together to create the overall result for the patient, just like how all the pieces of a puzzle fit together. This has helped me develop the way I carry out my own work in imaging, especially if it is apparent that a patient will benefit from a multidisciplinary approach to treatment. We usually only have one opportunity to acquire all the appropriate images so it is important that we get exactly what the clinicians need to make a diagnosis and working alongside all the different specialties has given me a huge appreciation of what is expected in imaging. I think it has also given me a tremendous sense of team work, everyone contributing their own part to get the best outcome for the patient.