Meet our Interns – Alexandra
Our talented team of interns are vital members of our clinical care team, providing exceptional veterinary care and management options for our patients and clients.
As qualified veterinary surgeons, interns join us on a 12-month supervised placement to improve their understanding of specialist treatment and care in their chosen disciplines.
Alexandra is coming to the end of her internship at our Eashing practice and has kindly shared her experience in this Q & A.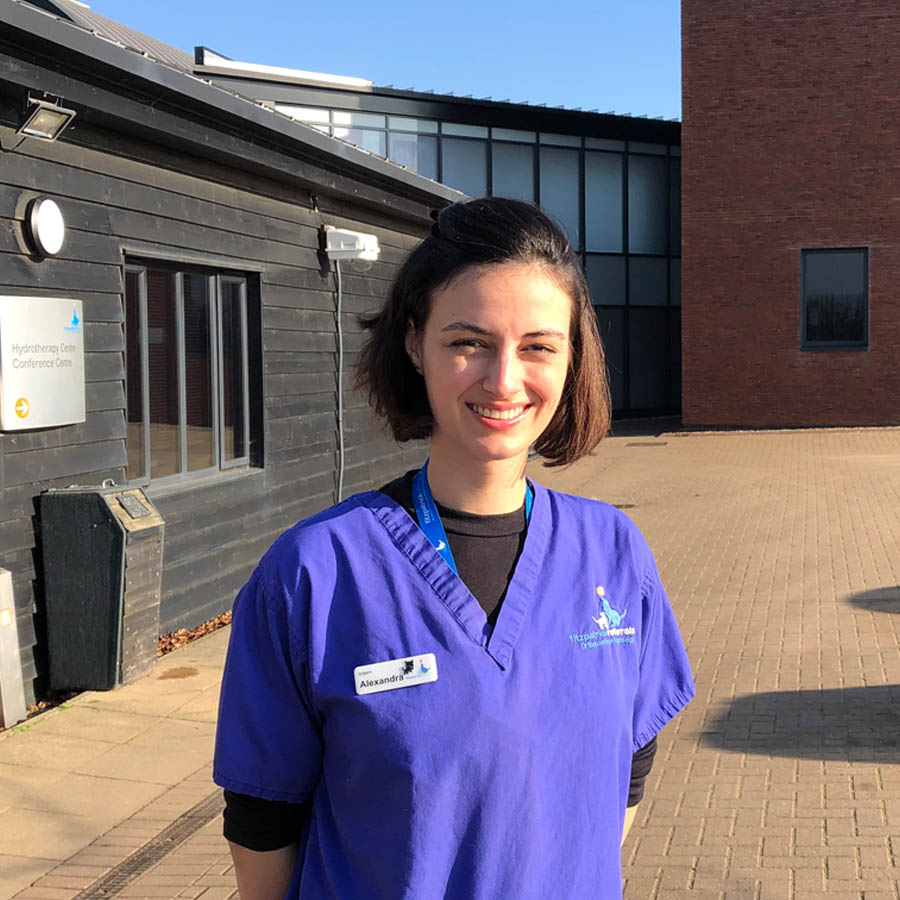 NAME: Alexandra Jifcovici
AGE: 29
JOB TITLE: Surgical Intern
UNIVERSITY: University of Veterinary Medicine Cluj-Napoca, Romania
HOMETOWN: Arad, Romania
Which internship programme are you doing at Fitzpatrick Referrals?
I am currently on Fitzpatrick Referrals' orthopaedics and neurology internship, which I started in August 2019.
What were the most important factors for you when choosing a practice to apply to?
For me personally, it must be small animal surgery-oriented; it must have a caseload of ECVS specialists; have teaching programmes and have a friendly environment.
What made you decide to do an internship at Fitzpatrick Referrals?
I wanted to develop my understanding of orthopaedics and neurology. This seemed to be the best place as it contains diverse specialists who are very keen to share their knowledge.
Talk us through a typical day as an intern
Most days before starting work we have theoretical lectures. Afterwards, I typically assist the clinicians either in surgery or in consults helping them with different cases and at the end of the day, I do research. We rotate each week through radiology, surgery, patient care and nights. Today, I'm based in prep doing x-rays of patients pre and postoperatively.
How have you found the internship?
It's been full of learning opportunities. Every day I learn and assist in high-level specialised surgeries. I have had the opportunity to further my skills in surgery, diagnostic imaging, anaesthesia, patient care management and how to develop excellent communication skills.
What have been your highlights?
Every time a clinician teaches me; delivering theoretical presentations to my colleagues; working with a friendly team in a professional environment.
Were there any tough moments?
Of course, as there are in any profession. But at the end of the day, it's all worth it.
What skills do you feel you have developed as a result of your internship?
I've improved my way of speaking in public, my research area and my theoretical skills in orthopaedics and neurology.
What are your plans now you have completed your internship?
I am moving to France to start another surgical internship and my goal following that is to apply for an ECVS surgical residency position. I hope to return 'home' to Fitzpatrick Referrals in the future.
What would you say to a vet considering doing an internship?
Doing an internship does need a lot of commitment, a lot of time invested and sometimes free time is sacrificed, but if you are thinking of taking the specialist path, it is all worth it in the end, because of the huge amount of knowledge you get to achieve as well as having the opportunity to learn from the best.
Fitzpatrick Referrals is currently recruiting interns at our oncology and soft tissue hospital in Guildford:
Anaesthesia Internship
Medical Oncology Internship
Rotating Internship