Hydrotherapy service reopens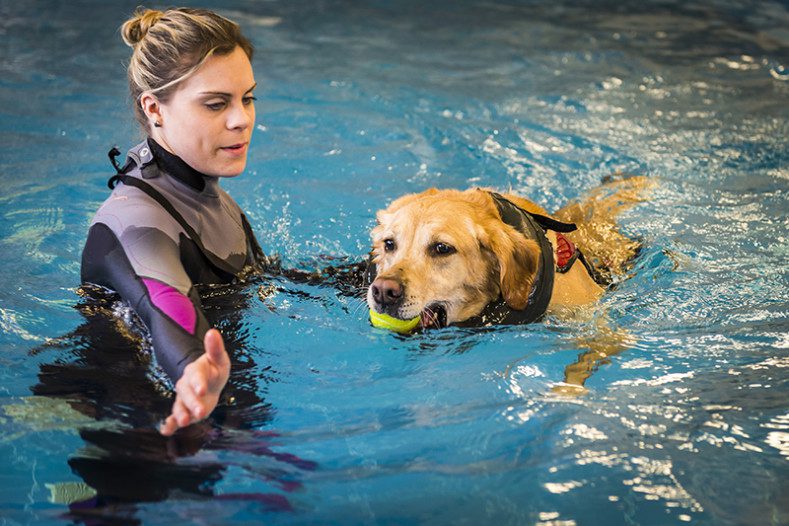 Book your animal's hydrotherapy pool and underwater treadmill sessions now
Our Rehabilitation Centre at Eashing has now fully reopened and offering outpatient physiotherapy clinics and hydrotherapy sessions, both underwater treadmill and pool therapy for dogs and cats.
Who can use the hydrotherapy service?
Inpatients and patients in the recovery phase up to 12 weeks following surgery
Longer-term rehabilitation cases beyond week 12
Cats and dogs needing conditioning and maintenance e.g. elderly, arthritic, weight management and general fitness
Sporting and working dogs
How to book?
Existing clients – please call the practice on 01483 423761
New clients – please ask your vet to make an online referral to our Rehabilitation Centre
Your first appointment with us will be a pre-hydrotherapy assessment with a physiotherapist to discuss your pet's hydrotherapy needs (excludes conditioning and maintenance clients).
Opening times
Hydrotherapy reopens fully on 5th October 2020, Monday – Saturday. Underwater treadmill appointments are available Monday – Saturday. The hydrotherapy pool is closed on Wednesday evenings and Saturdays.
We appreciate these are uncertain times and wish to reassure you that our practice has detailed hygiene protocols in place and continues to follow the Government's coronavirus guidelines, to minimise risk and help protect the wellbeing of our clients and team.
Please note, during the continuing Covid-19 pandemic clients are required to wait in their cars during their pet's appointment.
Read our coronavirus guidelines for clients