Q & A with Clinical Nurse Lead Carly Taylor
Every May, the veterinary community comes together to celebrate all things nursing for Veterinary Nursing Awareness Month.
Registered Veterinary Nurse (RVN) Carly has taken part in our Q & A to give an insight into the roles she has held since joining Fitzpatrick Referrals, as well what lead her to become an RVN.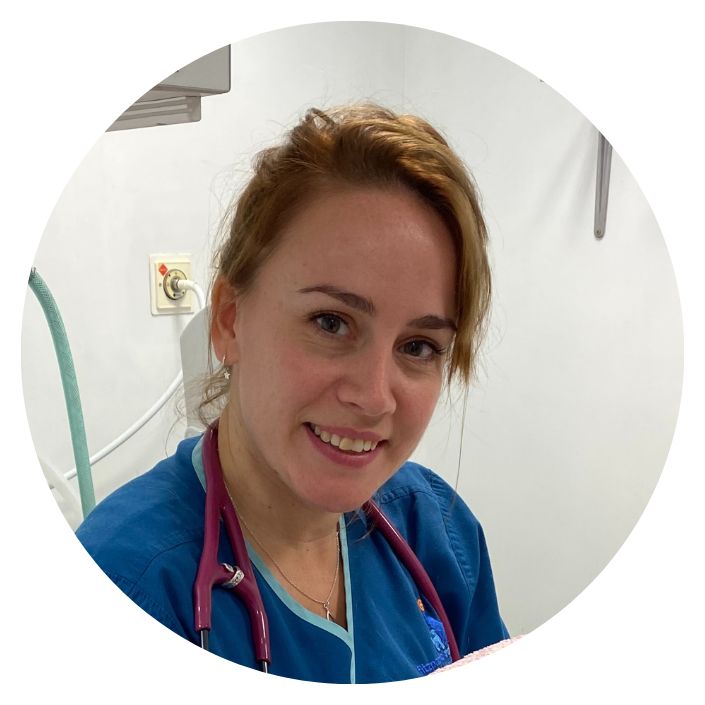 NAME: Carly Taylor
TEAM: Advanced Orthopaedics Team
JOB TITLE: Senior Advanced Orthopaedics Nurse (RVN) & Clinical Nurse Lead
JOINED FITZPATRICK REFERRALS: 2019
What attracted you to a career in veterinary nursing?
I guess what attracts most of us to a career in veterinary nursing; the love of animals and being able to provide a service that helps relieve their pain.
What was your education pathway into veterinary nursing?
I did a few things leading up to my nursing career. Leaving school I took my A – Levels (English, Biology and Psychology) whilst I was still deciding where I saw my career going. During this time I worked in a veterinary practice as an assistant and this piqued my interest in animal behaviour. Following my A-Levels I went on to complete a degree in animal behaviour which was incredibly interesting.
Working in a veterinary practice was the main push for my overall career choice as I was inspired by what we did and the team I was lucky enough to work alongside. However, they unfortunately were unable to put me through the veterinary nurse course as they were not a training practice.
When I moved on to a new practice who were able to accommodate my training, I took the diploma route for veterinary nursing as I felt I learnt better in a practical environment and attended college one day per week. I worked with a wonderful team who supported me all the way through it.
Tell us about your current RVN role and what it involves
I currently work as a senior nurse for the advanced orthopaedics team. This involves ensuring the patients' and clients' experience is as stress-free as possible. I assist with the admittance of patients, prepare their anaesthetic plans with the interns or anaesthesia team, monitor the GA during their procedures, ensure adequate pain relief is on board and that they have a comprehensive plan following their procedure.
I also work alongside a team of vets who are undertaking the advanced orthopaedic internship and ensure they are getting the most out of their experience with us.
My role relies heavily on good communication with the whole team. I must be organised and efficient and ready to take on any curve balls that the day may throw at us.
What's the best part of your job?
The best part of the job is seeing the patient back for their final sign-off appointment. Especially the ones who have been through a long recovery from an unusual procedure.
The families of the patients we see are often so dedicated and we often feel we ride that emotional journey with them. It's such a bittersweet moment saying goodbye for that last time.
I'm not ashamed to say I've shed a tear after they've gone!
Do you have any memorable patients or funny moments you'd like to share?
There are many memorable patients, for many reasons! There are the ones who just put a smile on your face remembering them, there are others who took a bit longer to win over, some that had an iconic surgery, some that had to be hospitalised for longer, and some that made it onto TV. I had a particular soft spot for a lovely pug called Aussie. I would often be found in her kennel with her snuggled on my lap! Then there is Stitch, a beautiful Cavalier King Charles Spaniel whom we performed a total knee replacement on and recently signed off. She was such a good girl despite going through a lot!
Funny moments – the team always have me laughing, even on some of the toughest days. You go through so many emotions working in the veterinary field so I believe it is important to work with people who can make you smile.
Why did you choose to work in referrals and what do you particularly like about the referrals side of veterinary nursing?
I chose to work in a referral practice as I wanted to expand my knowledge and skill set. I take great pride in all aspects of my work and want to deliver the best possible care to our patients. Referral nursing has given me the opportunity to work with a range of people and learn many different things from each and every one. I have a particularly strong interest in anaesthesia and I am lucky enough to work alongside a fantastic anaesthesia team who are always willing to teach and they often host in-house lectures/training sessions too.
What learning opportunities have you experienced and how has your role developed since joining Fitzpatrick Referrals?
I had just enrolled onto a postgraduate certificate in anaesthesia when I joined Fitzpatrick Referrals. I passed my exams within my first year of working here with thanks to the team for their support. This certificate has given me more confidence and knowledge working in referral practice. I'm not sure I would have felt the same had I stayed in a primary care practice. The facilities here allow us to put into practice what only some can learn in theory.
I became a mentor for new team members and guide them through their probation period, ensuring they feel comfortable before going solo. Working in a referral practice can be daunting to anyone, regardless of how long you've been qualified so the Fitzpatrick Mentor Scheme is a great way of introducing people without the fear.
Since then, I have added to my skills 'belt' various extra responsibilities including joining the chemo team! I particularly enjoy this as we build up relationships with the families of these patients. Not to mention a great way of improving vascular access skills!
After two years of working at Fitzpatrick Referrals, I joined the advanced orthopaedics team. I now work alongside Professor Noel Fitzpatrick and the team to assist the patients having more that require more advanced orthopaedic procedures. I find this very rewarding to know we are able to offer options to these clients/patients that may have felt they had lost hope.
In March 2023 I joined three other colleagues in becoming a clinical nurse lead (CNL) and now between us, we line manage the nursing and veterinary care assistant teams which is very rewarding but not without its challenges. I will continue to strive for high standards and lead by example to my team and encourage them to be the best they can be.
What makes you proud to work at Fitzpatrick Referrals?
Alongside the ground-breaking ortho procedures, fantastic neuro service, and high standards; I look around at all my colleagues and feel blessed to work with such an amazing group of people. Everyone works hard and treats the patients like their own. I am immensely proud of my work family and their abilities.
Any advice you'd like to give to aspiring veterinary nurses?
I would recommend getting as much animal handling experience as possible. This is often invaluable to the veterinary profession and something only experience will help with. The rest we can teach!