Aubrey's story – melanoma

Eight-year-old Dachshund Aubrey was referred to Fitzpatrick Referrals after having a suspicious mass removed from his paw pad by his local vet and histopathology results confirmed it was malignant melanoma.
To raise awareness for Skin Cancer Awareness Month, Aubrey's mum has kindly shared his story.
When did you first notice something was wrong?
Since he was a puppy I had regularly checked Aubrey's paw pads every couple of weeks and all was fine.
Last year he suddenly started to go off his legs, so I rushed him to my vet assuming it was his back. On the way there I was rubbing his paw to reassure him when I felt the growth. It felt and looked like an extra pad that had grown in the middle of his foot.
What did you do?
As the vet examined him I mentioned I'd found this growth on the way there, he confirmed the back issue and said the growth was odd and agreed it looked like an extra pad but advised I keep an eye on it. At that moment his immediate issue was his back and the next day he was admitted to Fitzpatrick Referrals Orthopaedics and Neurology for back surgery.
After the op, he was confined to crate rest for several weeks. I kept an eye on the pad but nothing changed until several weeks later when I was finally allowed to start walking Aubrey for a few minutes on the pavement. That was when I noticed blood on the floor. I took him in and cleaned it up, looked like the pavement had opened up the growth. I called my vet and took him in, originally he was given antibiotics as it turned a bit smelly quite quickly.
Just over a week went by, it wasn't getting better, Aubrey wanted to lick it all the time so I took him back to my vet. He said the only way to find out what this is would be to take it off, obviously, Aubrey had been through major surgery not long before but this growth worried me, it literally came from nowhere so I decided to have it removed, it was causing him a lot of discomfort, it wouldn't heal and I just didn't trust it was nothing to worry about.
A couple of days later my vet called me and said I've got the results so come in I can re-dress his foot and discuss results. That's when he told me he had a malignant melanoma. My vet recommended an immediate referral and I said I wanted to go to Fitzpatrick's oncology hospital.
How did you find your experience with Fitzpatrick Referrals?
Whilst I had a lot of experience with Dachshunds and their backs, this was very different, I knew what to expect with the back ops but this terrified me. From the minute I walked through the doors I was greeted with a warm smile, everyone I came into contact with was so calm, very kind and really understood the trauma and pressure to do the right thing that families feel.
I had a consultation explaining the type of cancer, possible treatments, pros and cons and the costs. It's expensive treatment, they're very much aware of that but there is absolutely no pressure, they lay out all the options to help you with your decision. It was advised we do a scan and if he's a candidate then we could proceed with the melanoma vaccine and they would start it immediately. I'm pleased to say he was, he started his treatment and went home that evening.
Every time we go back for appointments members of staff come up and say hello to Aubrey, sometimes take photos and say hello to me and my other dogs that go for moral support, it's so nice that they take the time to do that, it means a lot.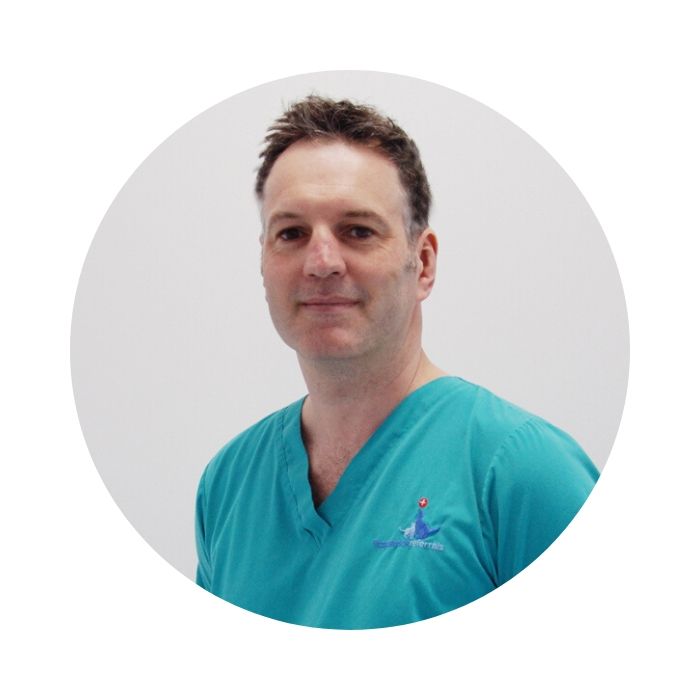 Melanoma is a cancer we often see in dogs' mouths, but as in Aubrey's case, it can also appear in the pads, toe nails and skin, or sometimes even unusual places like the eye or anal gland. Treatment focusses on tackling the original mass, or 'primary', as well as steps to try and slow spread to elsewhere in the body, so-called 'secondaries'.

Melanoma is a cancer in which we can also use immunotherapy in veterinary patients i.e. using a vaccine to stimulate the patient's own immune system to attack the tumour cells and so limit or delay the development of secondaries. The advantage to the patient is fewer side-effects and general ease of treatment. I am really pleased Aubrey can benefit from melanoma immunotherapy and spend high quality time with his family whilst he undergoes treatment.

Professor Nick Bacon, Clinical Director at Fitzpatrick Referrals Oncology and Soft Tissue
How is Aubrey doing now?
He's fantastic, he's just had his 3rd vaccine, it's been a year since his diagnosis, the signs look good it's going well but we are doing a scan next week to hopefully confirm that. He's had absolutely no side effects whatsoever and you would never know. He's back on his walks with my other boys, he's playing with them, killing his toys, barking a lot, all the usual things!
Update following scan (May 2020)
Good news! Aubrey has had his scan and all is well, I'm relieved but I'm also on top of the world. Thank you so much to everyone at Fitzpatrick's for taking such good care of Aubrey, I'm so grateful to you all.
What advice would you give to other people who are given this diagnosis for their dog?
Don't panic! Easier said than done I know. I was devastated when I got the diagnosis, I expected the worst and thought I'd put him through that back op for nothing, I was heartbroken.
Don't Google and don't get advice from Facebook users. Just get a referral to a specialist ASAP. You can't make decisions without the right information and meeting the specialists at Fitzpatrick Referrals helped massively. I felt so much better after my consultation because I knew he was in the best hands and no matter what they would take the very best care of us.
Thank you to Aubrey's mum for kindly sharing her journey with Fitzpatrick Referrals.