Orthopaedic Service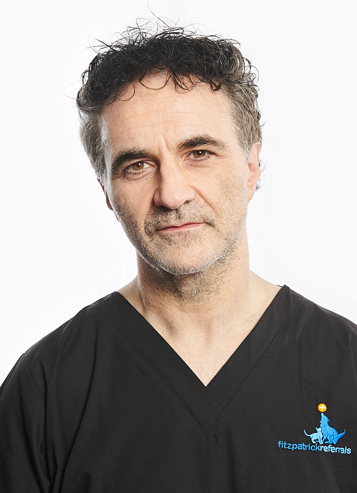 Noel Fitzpatrick
Managing Director
Fitzpatrick Referrals hosts the largest team of specialist veterinary surgeons dedicated to orthopaedics in the UK.
Orthopaedic surgeons at Fitzpatrick Referrals are part of an integrated, multidisciplinary team of veterinary care professionals who all provide individual and dedicated round the clock care for our patients. Our specialists focus on the prevention, diagnosis and treatment of a variety of musculoskeletal disorders.
We are passionate about understanding the evolution of small animal diseases and endeavour to nurture and encourage current and future generations of veterinary surgeons through ongoing learning. We work collegially with specialists across the medical field in the hope that one day companion animals will be seen as equal beings to humans.
This unique collaboration has allowed us to become the only centre in the world offering companion animal services to include custom made total joint replacements for most joints in dogs.
Having this expertise working in unity under one roof, allows us to focus on delivering excellence in all aspects of your pets clinical needs and emotional needs.
Radiograph Reporting Service
Our team provides a free radiograph reporting service to support local primary care vets with the management of orthopaedic cases.
Orthopaedic Conditions
Through the dedication of our orthopaedic clinicians and extended patient care team we are able to treat a variety of clinical conditions. Some of which are performed routinely and some of which that require more bespoke intervention.
Patient Stories
The Patient Stories below give an insight to some of our patients and their journey while having treatment at Fitzpatrick Referrals.