Fitzpatrick Referrals expands Orthopaedics team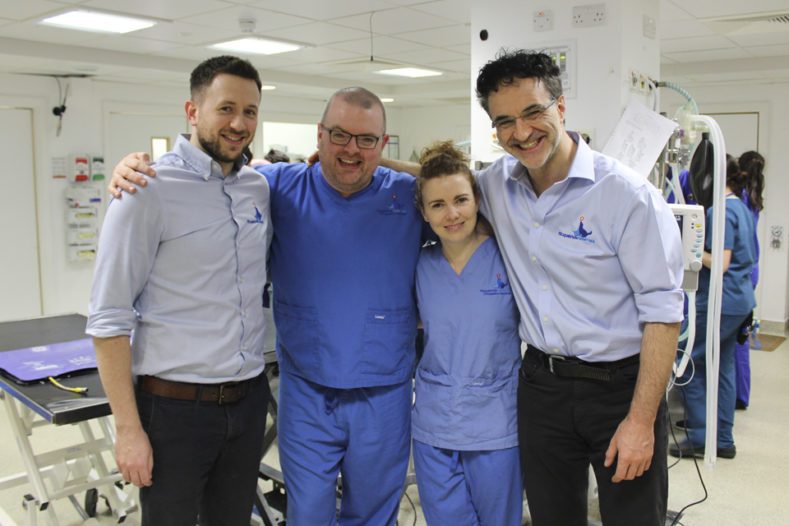 Fitzpatrick Referrals is celebrating a number of accomplishments in the Orthopaedics team.
Dr James Guthrie is returning to Fitzpatrick Referrals as a Senior Surgeon in Orthopaedics, after passing his board exams in February and becoming a European specialist in small animal surgery.
James said,
Even before I graduated from vet school, my goal was to become a specialist surgeon. This month, that goal became a reality after passing my final set of examinations. I am hugely grateful to Fitzpatrick Referrals for providing me with the opportunity over the last five years to make a dream come true.
Fitzpatrick Referrals is also welcoming back Pádraig Egan and Susan Murphy who have both accepted positions as Surgical Registrars in Orthopaedics, after completing a three-year European College of Veterinary Surgeons approved residency programme in small animal surgery.
The expansion of the Orthopaedics service increases the capacity at Fitzpatrick Referrals Orthopaedics and Neurology, and as a result will shorten waiting times for clients. The team aim to attend the most common routine orthopaedic cases within one week and routine spinal surgery within 24 hours.
We know that on occasion, speaking to a specialist is valuable and enables vets to deliver the best options for the client. Fitzpatrick Referrals is available every day to provide advice to vets and one of our clinicians will call you back within one hour of making a clinical enquiry.*
In February 2018, Fitzpatrick Referrals is promising a Fixed Price February for all clients who are referred for the most common procedures at the Orthopaedics and Neurology hospital, in a move to offer additional referral options with the client's personal requirements in mind. [Fixed Price February has now ended].
*Advice within 1 hour applies to normal working hours (8 am – 8 pm) Monday to Friday. We can give advice for emergency case out-of-hours.