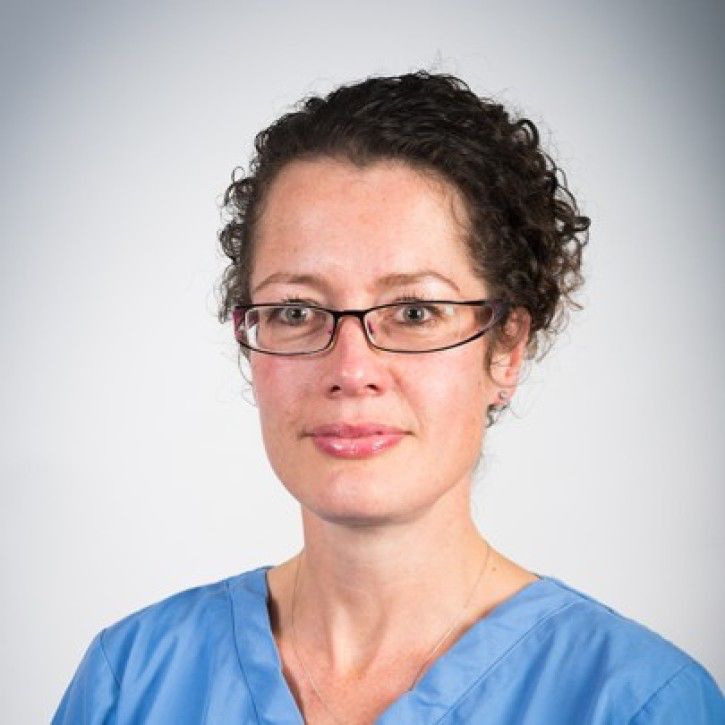 Specialist areas
Dr Sarah Girling
Senior Surgeon, Orthopaedics

/

BSc BVSc CertSAS DipECVS MRCVS
EBVS® European Specialist in Small Animal Surgery
Sarah graduated from Massey University, New Zealand in 1995 and spent five years in mixed practice before joining the University of Liverpool where she held the position of surgical resident gaining the RCVS Certificate in Small Animal Surgery in 2003, and European College of Veterinary Surgeons diploma in 2007, becoming an EBVS® European Specialist in Small Animal Surgery.
Sarah is one of Fitzpatrick Referrals' most talented surgeons with all the necessary skills to manage your patient with joint disease (stifle/elbow/shoulder, arthroscopy, joint replacement, elbow unicompartment resurfacing), fracture repair and surgical spinal problems at any level. She has a particular interest in total hip replacement (THR) and contributes data to the BVOA-UoL THR Registry; this database follows patients post-THR throughout their lifetime. We hope information acquired from data acquisition can assist clients in their decision-making.
Sarah recently held the position of chairperson of the British Veterinary Orthopaedic Association, a UK network of veterinary orthopaedic surgeons' keen to share knowledge and educate the next generation of veterinary surgeons. In conjunction with CPD Solutions, Sarah developed the PGCert(SAS), a training program for budding surgeons. Sarah is a current member of AOVET faculty; a global network of surgeons, scientists and other professionals in the human and veterinary field dedicated to the advancement of orthopaedics with education as their legacy. Sarah is an occasional consultant to Arthrex and makes a daily commitment to the onsite training of our surgeons in training (ECVS). But first and foremost, Sarah is present for our patients at Fitzpatrick Referrals. Sarah and her team firmly believe in putting our patients first and endeavour to their families to make informed decisions regarding treatment, thereby optimising outcome. Fixing broken animals is a passion and a daily reward, the best positive feedback loop ever!
Publications
Research authors: E R Henderson, A Wills, A M Torrington, A P Moores, D Thomson, G Arthurs, G Brown, H R Denny, H W Scott, I MacQueen, J Dunne, J Onyett, J D Walker, J Prior, M R Owen, N Burton, R Whitelock, Sarah Girling, S Morrison, S Gilbert, S J Langley-Hobbs, T J Gemmill, C K Störk, S Bright, E Comerford, R Pettitt, N Macdonald, J F Innes