Client Column: Tully by Lance Plunkett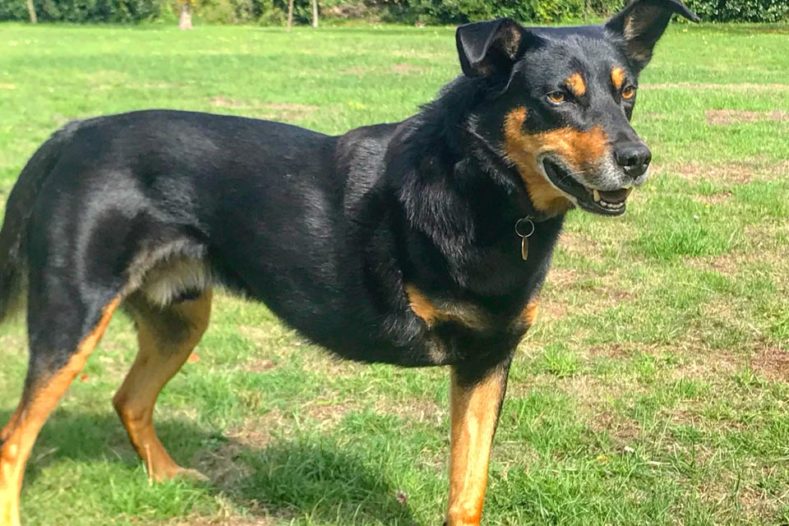 Tully, by Lance Plunkett
Tully is an eight-year-old Australian Kelpie who I've had since he was eight months old. He is extremely loyal, loves a cuddle and is super well behaved.
People who meet Tully always love him – he greets everyone with a waggy tail and genuine look of happiness on his whole face. Even before his operation, he was a special dog whom everyone loved, and now he is extra special with his three legs.
In November 2014, Tully started to show a slight lameness in his front right leg. A local vet first thought he had pulled a muscle in his shoulder and recommended resting him from walks. We tried that for a month and the symptoms slightly improved but there were still small signs of lameness.
Unfortunately, we had a six-week trip to Australia planned so Tully stayed with a friend who was going to rest him. When we returned in January his lameness had not gotten any better, so we returned to the local vet who took some x-rays and saw what he thought was a cancerous tumour in Tully's shoulder and he was immediately referred to Fitzpatrick Referrals Oncology and Soft Tissue hospital.
Tully was seen by Nick Bacon who diagnosed an osteosarcoma and we discussed treatment plans. I was extremely worried about Tully being on three legs and seriously considered having his leg removed. However, after much research and talking to other people with three-legged dogs and weighing up all the pros and cons, I decided amputation was the best route.
After the leg and tumour were removed, Tully had chemotherapy. I wasn't concerned about this, as I had discovered through research that it doesn't affect dogs like it does humans. Tully had both intravenous and oral chemotherapy and neither affected him at all. He is still on chemotherapy today.
Once his strength was built up, I treated him as I did before; we went for runs together and I let him do what he wanted. Dogs on three legs do not need to be wrapped up in cotton wool and my philosophy was that he might as well enjoy the days he has left as much as he could.
He loves swimming, racing along the beach, chasing balls, jumping onto boulders and going for runs with me. Tully's life now is identical to what it was before the operation and chemotherapy: he runs, swims, jumps and chases balls with all the vigour that he did when he had four legs. He is the alpha dog in the family and keeps up with his younger sisters Hiccup and Meadow without difficulty. He even insists on lifting his leg to pee still, balancing on only two legs.
It has worked so well with the local vet and Fitzpatrick Referrals sharing Tully's care. The communication between them and Fitzpatricks has been seamless and both have worked really well together to help Tully. It couldn't have been an easier or better process.
I cannot speak highly enough of the team at Fitzpatrick Referrals – they are friendly, nice, talented and genuine people with the animal's welfare at the heart of their job. I'll forever be grateful to them for keeping my best mate alive for a lot longer than was expected… and he's still going!